Come and join JBMS and pilgrims climb Cross Fell, one of the highest mountains in England outside the Lake District, celebrating the life of John Bradburne.
The climb will take approximately 7 hours (4 hours up and 3 hours down) with a distance of 16km, with a 700m ascent. You will need a good level of fitness to manage this climb up the Fell.
Bishop Paul Swarbrick will be accompanying us with prayers along the route.
Before the climb there will be a special Mass held at St John the Evangelist Church, Skirwith, CA10 1RQ at 10am. This was the church where John Bradburne's father, Thomas Bradburne was vicar. All welcome to join the Mass, even if you cannot make the climb.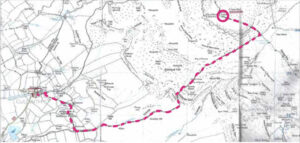 SATURDAY 15TH JULY 2023
10am Mass at St John the Evangelist Church, Skirwith, CA10 1RQ
11am Start climb. Meet in the field opposite St Lawrence's Church, Kirkland, CA10 1RN
MAP:
Above is an image of the map showing the route we will be climbing up Cross Fell. You will note there are steep parts, which require a decent level of fitness. Please do not attempt this climb without this necessary fitness level.
KIT LIST:
• Lightweight trousers • Lightweight top • Walking socks • Trail shoes/walking boots • Waterproof jacket • Rucksack Water and packed lunch
GETTING THERE:
If you cannot drive to the location the nearest train station to the walk is Penrith train station. Let us know if this is what you are doing and we will organise transportation to the start of the climb.
PARKING:
We have been given permission to park in the field opposite the St Lawrence Church in Kirkland, CA10 1RN.
DONATION:
There is no cost to take part in the Pilgrimage Walk, however a donation towards the Mutemwa Leprosy Care Centre would be gratefully received.
To book your place and make your donation please visit: www.johnbradburne.com or call Kate on 07979 187498.
All proceeds of this climb go straight to supporting the people living at Mutemwa Leprosy Care Centre