[twocol_one]
Deacon Didier Rance is French and lives in France with his wife, enjoying regular visits from his grandchildren.  Deacon Rance is a Historian and was based in Africa for 10 years and has spent 30 years working for the persecuted churches.  An accomplished writer, Deacon Rance has  published some 30 books, three of them on John Bradburne, whom he discovered in 1983 when he was asked to fundraise for Mutemwa.
[/twocol_one]
[twocol_one_last]
An accomplished writer, editor, lecturer and broadcaster specialising in the English language and linguistics Professor David Crystal has been the main editor of John's poetry since the mid-1990s.  Working from his home in Holyhead, North Wales with his wife Hilary, they have edited a number of anthologies of the poetry.  A Life Made of Words: the Poetry and Thought of John Bradburne which was published in 2018.   David was was made honorary professor of linguistics at the University of Bangor.
[/twocol_one_last]
[twocol_one]
Valerie was born in Namibia and moved to Zimbabwe in 1951 where she lived until she moved to the UK with her husband and daughter in 2001. Working for Netherlands Bank of SA for many years until her retirement, Valerie  became a trustee of JBMS in 2008 and due to her banking background was appointed treasurer of the charity. Valerie now lives in Northampton with her husband and is heavily involved in her local church, she enjoys attending art society lectures and is an avid gardener.
[/twocol_one]
[twocol_one_last]
Anne spent 50 years of her life in Zimbabwe, moving her family to the UK in 2000.  During her time in Zimbabwe, Anne worked with Non-Government organisations in the fields of refugee support during the Bush War; a feeding scheme for 30,000 pre-school children in remote areas; the education of women in rural areas in the fields of nutrition etc.  Anne was a friend of John Bradburne during the 1970's and she has been actively involved with Mutemwa since 1978.  She now acts as a trustee for JBMS UK and her personal knowledge of John and Zimbabwe are hugely beneficial to JBMS.
[/twocol_one_last]
[twocol_one_last]
Tim has been Chairman of JBMS since 2000. Married to Celia, John's niece who with John Reid established JBMS in 1995 and was asked by the Trustees to become Chairman.Tim has had a varied career in Agriculture and worked at Senior Management level within Unilever, The Government research service and within Agribusiness. He currently Chairs a whole range of bodies ranging from The National Equine Forum to the UK Cattle Health and Welfare Sector Council. He was awarded the MBE for services to Agriculture in 2007. Tim and Celia, who died in 2018 have three daughters and 7 grandchildren. In his spare time, Tim is an avid Cricket fan, enjoys listening and going to music events and spends most of his spare time mowing!
[/twocol_one_last]
[twocol_one]
Kate Macpherson is Secretary of JBMS and took over the role after her mother, Celia Brigstocke passed away in 2018. Before her role at JBMS, Kate worked for over 15 years in both Fashion and Interior Design in London. Kate is John Bradburne's great niece and was born in the September 1979 just after John was killed. She has visited Mutemwa many times over the last 40 years and feels it is her calling to carry on the work that both John and her mother started in Zimbabwe. Kate is married to Alex and has two sons with a zoo of animals at home. She is heavily involved with supporting families of autistic children. Kate enjoys keeping active, music, dancing, art and gardening and loves animals.
[/twocol_one]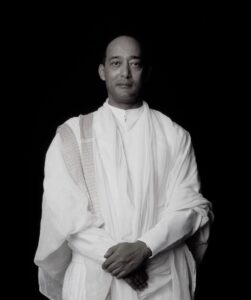 His Imperial Highness Prince Ermias Sahle-Selassie
His Imperial Highness Prince Ermias has recently been invited to lead a Royal Visit to Zimbabwe; subject to the travel restrictions of the current COVID-19 Pandemic. He intends to be an active Royal Patron of the John Bradburne Memorial Society; and thus joins the relatives, friends and supporters of John Randal Bradburne; and the 'Cause of Sainthood'; with Joy; and with Prayerful Devotion to Almighty God.
A Formal Introduction of His Imperial Highness Prince Ermias as JBMS Royal Patron 06-03-2021
[twocol_one]