Teresa Yonge and James Perkins are fundraising to buy much needed water storage tanks for Mutemwa Leprosy Care Centre in Zimbabwe.
As  Zimbabwe faces hotter summers and increased water shortages, these water tanks prove to be a lifeline for the Mutemwa residents. This will mean that the residents at Mutemwa will have a more stable and reliable access to water in the future.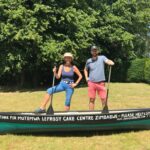 Mutemwa is a very special place situated in Mashonaland in the Eastern Province of Zimbabwe and is where Teresa's uncle John Bradburne lived for the last 10 years of his life, caring for the community there who were living with the devastating effects of leprosy. The situation in Zimbabwe is dire and people are suffering greatly all over the country. Water is a high priority right now with all the droughts they have been having in that part of Africa.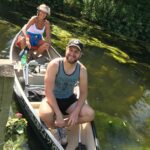 Due to the coronavirus government restrictions, Teresa and James will paddle the distance of 134 miles (the length of the River Thames) on their local River Stour in East Anglia instead of the Thames this year. They will paddle together in a 15 ft open Canadian canoe from Sudbury to Cattawade six times, as it is a relatively small river and only 24.2 miles long.
The River Stour is a wonderful and peaceful river which gently meanders through the stunningly beautiful Dedham Vale countryside, where the well-known artist John Constable painted many of his masterpieces like 'The Haywain'. The Stour also marks the border and boundary of Essex and Suffolk and is full of river birds and wildlife.
Please support their fundraising venture and give what you can as all contributions put together WILL make a difference.Your help and kind sponsorship is much appreciated by Teresa and James, the John Bradburne Memorial Society and, of course, for those living at Mutemwa.